Ebay (NASDAQ:EBAY) is a large cap stock with a market capitalization of $40.55 billion. The company is a commerce company, which operates through its Marketplace, StubHub and Classifieds platforms.
Ebay is located to the special retail industry, a part of the services sector. The biggest competitors are Amazon (NASDAQ:AMZN), Etsy (NASDAQ:ETSY) and Wayfair (NYSE:W). Here is a full list of my peer holdings for ebay: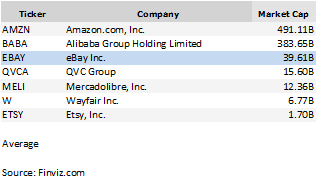 The ebay stock is up 41.14% over the past year which is a clear outperformance compared to the S&P 500, Dow Jones and Nasdaq.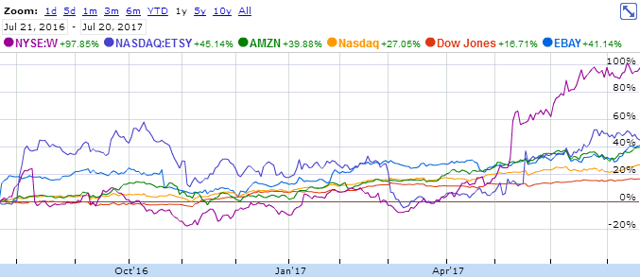 Source: Googlefinance.com

EBAY outperformed the market in recent months. Is it now a good time to buy, not to buy, wait or sell the stock? In this article, I will check the financial and valuation figures of the company and give a clear statement to the current situation.

I developed a simple system to evaluate the financial health of a company. It looks at the following six key metrics...

- Profitability (+)

The profitability of EBAY is good. The operating margin of EBAY amounts to 24.90% compared to 12.58% of the peer average.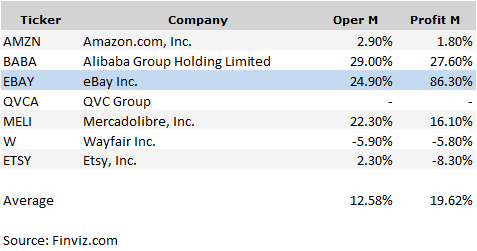 - Debt Situation (-)

I use the debt-to-equity ratio as qualified measure to evaluate the debt situation.

The debt-to-equity ratio for Ebay amounted to 0.77. Compared to the peer ratio of just 0.6, the online auction company seems to be working with a higher leverage, which is in general bad due to a higher financial risk.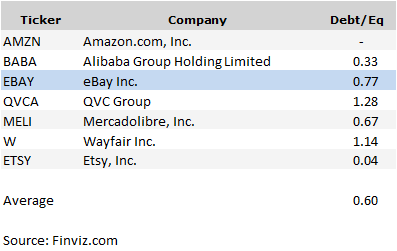 - Dividend Yield (-)

Ebay pays no dividends. The peer average offers a ratio of 0.21%. Most of the peers don't pay a dividend. Mercadolibre (NASDAQ:MELI) is the only company with quarter dividends.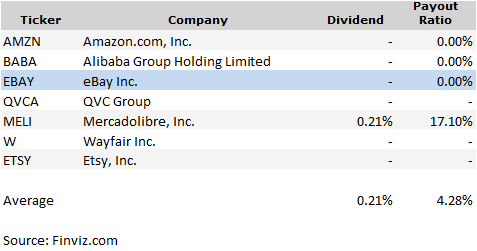 - P/E Ratio (+)

The current price-to-earnings ratio of EBAY amounts to 5.3. Compared to figures from the peer group, which are valuated with an average ratio of 72.71, Ebay looks cheaper than other companies in the industry.

This impression is also intact when we look at the forward P/E ratios. Ebay's forward P/E is 16.83.





- Capital Returns (+)

Capital returns are important for investors. Two most used ratios to evaluate the capital efficiency of a company are the return on equity and return on investment.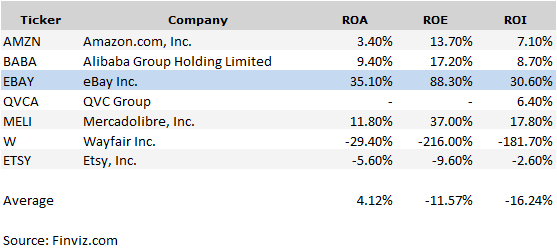 All return ratios have better values than the peer average.



- Sales and EPS Growth (-)

Sales and earnings growth figures are also very important for investors. Quarter over Quarter, Ebay is losing market share with a sales growth of just 3.7% compared to an peer average value of 29.26%.




Ebay receives a "Hold Positive" rating

Ebay passes three of my six key metrics. Similar to my investment rating scheme, EBAY receives a Hold Positive Rating from me.


| | |
| --- | --- |
| Rating | # Metrics |
| Strong Buy | 5 + |
| Buy | 4 + |
| Hold Positive | 3 + |
| Hold Negative | 2 + |
| Sell | 1 + |

What do you think about ebay? Is it a buy, hold or sell?
This article was written by Dividend Yield. If you enjoyed this article, please subscribe to his feed [

RSS

].